Bioglan Marine Collagen Beauty Complex 60s

Bioglan Marine Collagen Beauty Complex 60s
Bioglan Marine Collagen Beauty Complex is formulated to help:
- Reduce fine lines & wrinkles
- Improve skin elasticity & firmness
- Support skin health & cellular structure
- Support collagen health & formation
- Antioxidant to reduce free radicals formed in the body
Always read the label and follow the directions for use.
Product Benefits

Reduces Fine Lines & Wrinkles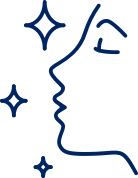 Improves Skin Elasticity & Firmness

Supports Skin Cellular Stucture
BIOGLAN MARINE COLLAGEN BEAUTY COMPLEX contains Hydrolysed Collagen Peptides derived from wild ocean caught fish rich in Type 1 Collagen – The most abundant collagen protein the human body. This high-strength beauty supplement is formulated with Vitamin C and Zinc to help achieve your ultimate healthy glowing skin goals, from within. When ingested, this complex work deep beneath the surface of the skin to stimulate collagen fibres and support the structure of the Dermis at a cellular level.
Directions for use:
Adults: Take 2 tablets per day for collagen formation and skin health.
Adults: Take 4 tablets per day to improve skin elasticity and firmness
Each tablet contains: Hydrolysed Collagen (Marine) 1.25g, Ascorbic Acid (Vitamin C) 75mg, Zinc (as Zinc Gluconate) 3.5mg
Warning: Contains fish products, phenylalanine and tartrazine. Do not use if tamper evident seal is broken or missing. Vitamin and mineral supplements should not replace a balanced diet. Store below 25°C.