Bioglan Healthy Kids Eye Guard Chewable 50 Tablets

Bioglan Healthy Kids Eye Guard Chewable 50 Tablets
BIOGLAN Healthy Kids Eye Guard Chewables contain ingredients which support kids eye health.
Always read the label and follow the directions for use.
Product Benefits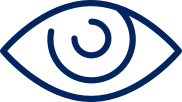 Supports Retina and Macula health

BIOGLAN Healthy Kids Eye Guard Chewable help support your child's eye health with the power of antioxidants.

Each chewable contains Betacarotene which helps support retina and macula health plus Lutein which is a key component of the retina. Eye Guard Chewable is specially formulated to contain antioxidant nutrients that may reduce free radicals formed in the body.

BIOGLAN Healthy Kids Eye Guard Chewables have a delicious blueberry flavour which your kids will love!
DIRECTIONS FOR PARENTS:
Children 4yrs+: Give 1 chewable tablet per day or as advised by your healthcare professional.
Lutein 5mg
d-alpha-tocopheryl acid succinate (Vitamin E 5.45 IU) 4.5mg
Betacarotene 500 micrograms
Vitamin supplements should not replace a balanced diet. Always consult your health professional. Contains sugars, sucralose and sulfites, fish products and soya bean products. Do not use if tamper evident seal is broken or missing. Store below 25°C.