Tropical Green Oat Pancakes
Ingredients
Makes 8-9 small pancakes
1 ½ cup rolled oats
1 cup unsweetened milk of preference
1 ripe banana (mashed)
1 teaspoon vanilla extract
2 teaspoons Greens Powder
½ teaspoon Bioglan Organic Spirulina Powder
Toppings:
Coconut syrup, made using coconut sugar *
Sliced fresh pineapple
Sliced bananas
Bioglan Coconut chips
Desiccated coconut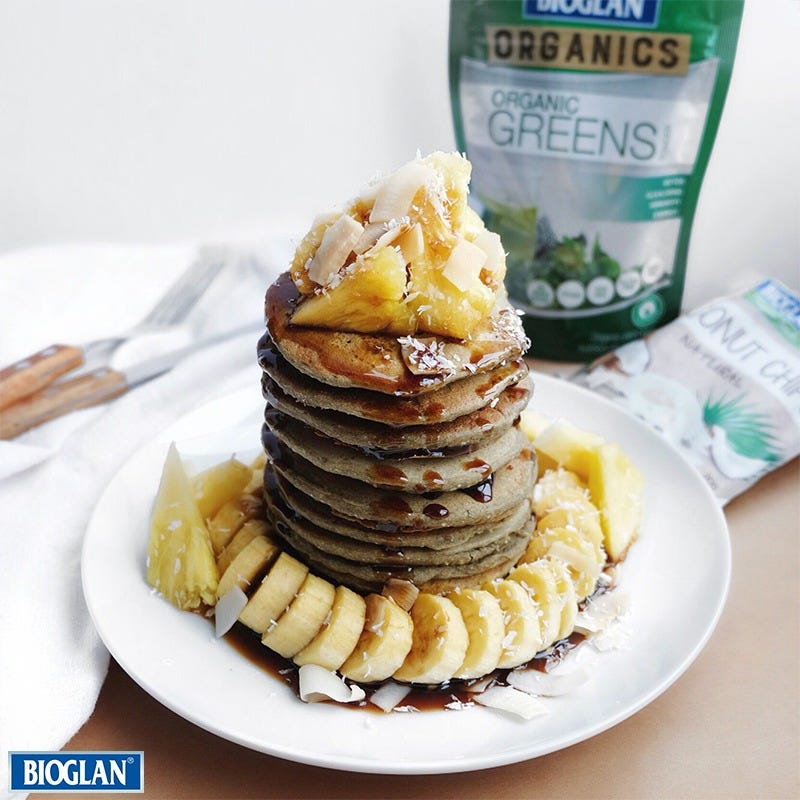 Method
1. Place oats into a high-speed blender/food processor and pulse until a flour consistency forms.
2. Add milk, mashed banana, Greens Powder and Bioglan Organic Spirulina Powder, and blend until well combined. It should form a thick, but pourable pancake batter.
3. Pre-heat a non-stick frying pan on low to medium heat and grease lightly with coconut oil.
4. Using a small ladle, scoop batter onto the hot pan. Cook until bubbles form on the surface of the pancake and rims of pancake turn matte. Flip and cook for another 1-2 minutes.
*To make coconut syrup, add ¼ cup Coconut Sugar and ¼ cup water into a small saucepan. Turn heat to medium, and let simmer, whisking occasionally until sugar is fully dissolved. Reduce heat to low, and continue to simmer until the syrup is thick and caramel colored. Let cool and transfer to a container for easy pouring. (Makes enough for one serving of pancakes)