Ingredients
6 kale leaves
200 grams cherry tomatoes, halved
2 tablespoons olive oil
1/2 cup quinoa
1 Lebanese cucumber, sliced
75 grams pitted black olives
100 grams mixed sprouts
1/4 cup pepitas
1/4 cup torn fresh mint leaves
Dressing
1 teaspoon Dijon mustard
2 tablespoons extra virgin olive oil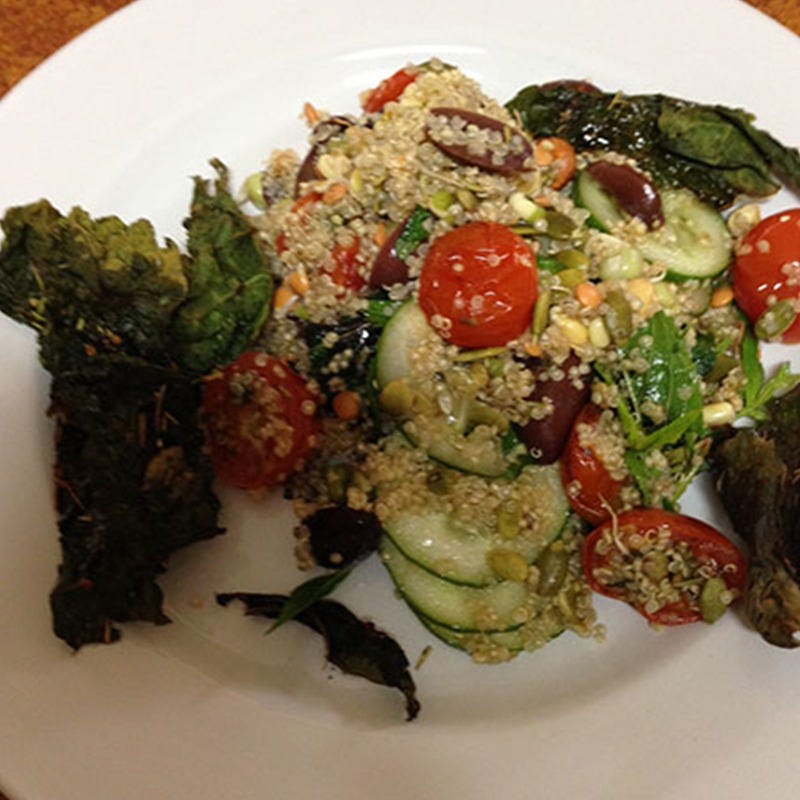 Method
1. Preheat oven to 180C. Line two baking trays with baking paper. Tear the kale leaves from the stems and tear into large pieces, put the torn leaves onto the baking trays with the tomato halves on another tray and drizzle with the oil.
2. Bake the kale chips for 5 minutes or until crisp and the tomatoes for 20-30 minutes or until the tomatoes are soft.
3. Meanwhile cook the quinoa in a large pan of boiling water for 15-20 minutes or until the tails start to separate, rinse under cold water and drain.
4. Put the drained quinoa into a bowl, gently fold through the cucumber, olives, sprouts, pepitas and cooked tomatoes.
5. Whisk together the mustard and olive oil and gently mix to coat.
6. Serve mounds of the salad with the kale chips to the side.