Raw Vegan Carrot Cake with Cashew Cream Frosting
Ingredients
Makes 15 small slices
For Carrot Cake:
2 1/2 cup shredded carrots (about 3-4 large carrots)
1 cup pitted dates
1 cup raw walnuts
½ cup raw pecans
¼ cup raisins
2 tablespoons freshly squeezed orange juice
½ cup unsweetened shredded coconut
1 teaspoon Bioglan Organics Maca Powder
1 teaspoon cinnamon
½ teaspoon ginger powder
¼ teaspoon nutmeg
a pinch of salt
For Cashew Cream Frosting:
1 cup raw cashews, soaked overnight and drained
1/4 coconut cream
3 tablespoons coconut sugar
1 teaspoon vanilla extract
juice of ½ lemon
pinch of salt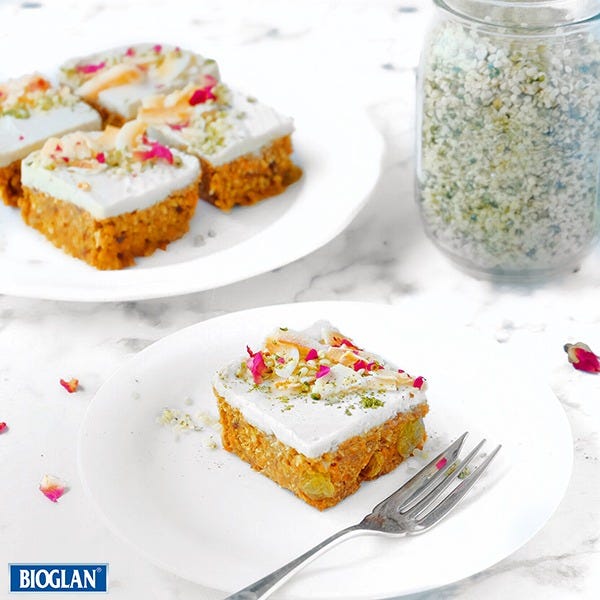 Method
1. Line a 9" springform pan or 8×8 square with parchment paper so that the edges hang over the sides of the pan for easy removal.
2. In a food processor, blend together walnuts, pecans, and dates until mostly smooth, with a few smaller chunks. Add shredded coconut, orange juice, Maca powder, spices, and salt and blend together.
3. Add carrots and raisins and pulse until well combined, scraping down the sides often.
4. Scoop cake into prepared pan, press onto pan evenly, and chill in freezer.
5. To make cashew cream, add all ingredients in a food processor or high-speed blender and blend until completely smooth.
6. Spoon cashew cream onto chilled cake and smoothen the top. Freeze for 2-4 hours or overnight to set.
7. To serve, remove the carrot cake from cake tin by pulling the sides of the parchment paper. Let sit at room temperature for 10 minutes prior to slicing. Slice, add toppings of your choice and enjoy!