Ingredients
Base:
1/2 cup soft dates (soak for 10 minutes if not soft enough)
1/2 cup almond flour
1/2 cup desiccated coconut
A few drops of pure vanilla essence
A pinch of salt
Caramel:
1 cup soaked dates
1 cup soaked cashews
1.5 tablespoons tahini
1 tablespoon pure maple syrup
1/4 cup Bioglan coconut oil
1 tablespoon Bioglan organic maca powder
Chocolate layer:
Favourite vegan chocolate + sprinkle of flaked sea salt
or
1/4 cup melted Bioglan coconut oil
1/4 cup smooth nut butter
2 tablespoons cacao powder
2 teaspoons pure maple syrup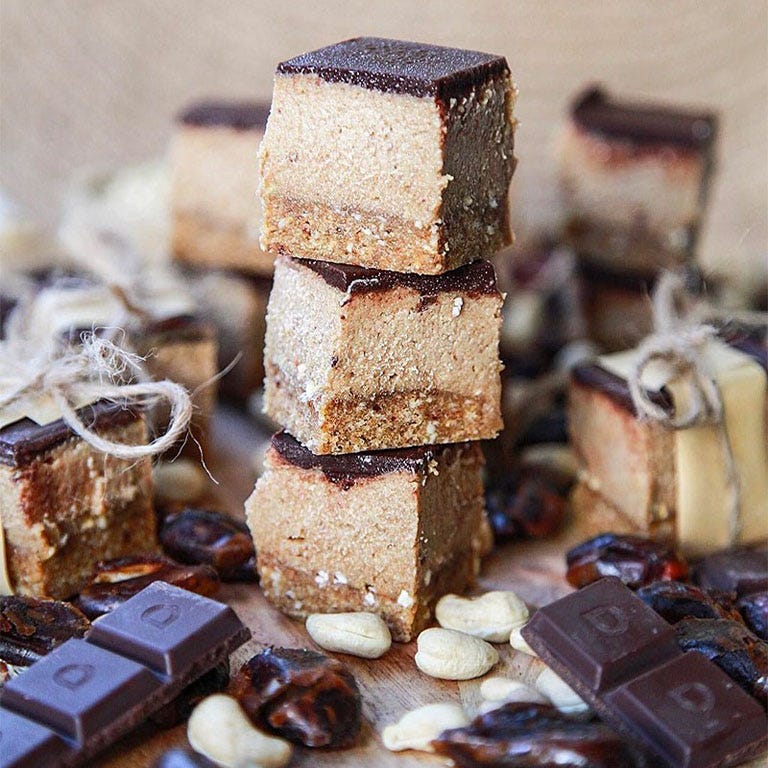 Method
Base:
1. Process all ingredients in a food processor until mixture becomes sticky and holds it's shape.
2. Line a baking tin with baking paper and place the mature in the tin. Press down evenly and firmly. Place the tin in freezer.
Caramel:
1. Place all ingredients into a high powered food processor and mix for about 2-5 minutes (depending on strength of food processor) until it is smooth and creamy. Add a splash water if it needs help mixing.
2. Pour mixture over base and place tin back in the freezer for an hour or so.
Chocolate Layer:
Option 1: Melt your favourite vegan chocolate.
Option 2: Place melted coconut oil and all other ingredients into a bowl and whisk until combined.
1.Pour over caramel layer, sprinkle with flakes of salt and place back in the freezer for a few minutes (not for so long the chocolate layer to goes too hard).
2. Remove from freezer and heat a metal knife in hot water. Cut into desired pieces and place back in the freezer for storage.