Ingredients
For the pho soup broth:
1 teaspoon Bioglan Coconut Oil
1 small onion (peeled and halved)
1 carrot (roughly chopped)
1 3-inch size ginger (peeled and sliced)
2 tablespoons Bioglan Beef Bone Broth Powder
2 star anise
2 cloves
1 cinnamon stick
3 cups water
1 tablespoon soy sauce
1 tablespoon fish sauce
1 teaspoon maple syrup (or any sweetener of choice)
For the noodles and toppings:
150 grams of sirloin (cut into 1/8 inch slices) *freezing the steak in the freezer for 15-20 minutes before cutting makes it easier to cut.
2 nests of dry flat rice noodles
1 scallion stalk (thinly sliced)
1 cup bean sprouts
8-10 mints leaves
8-10 thai basil leaves
8-10 sprigs coriander
1 lime sliced into wedges
1 red chili (sliced) *seeds can be removed depending on preferred spiciness sriracha sauce or hoisin sauce to serve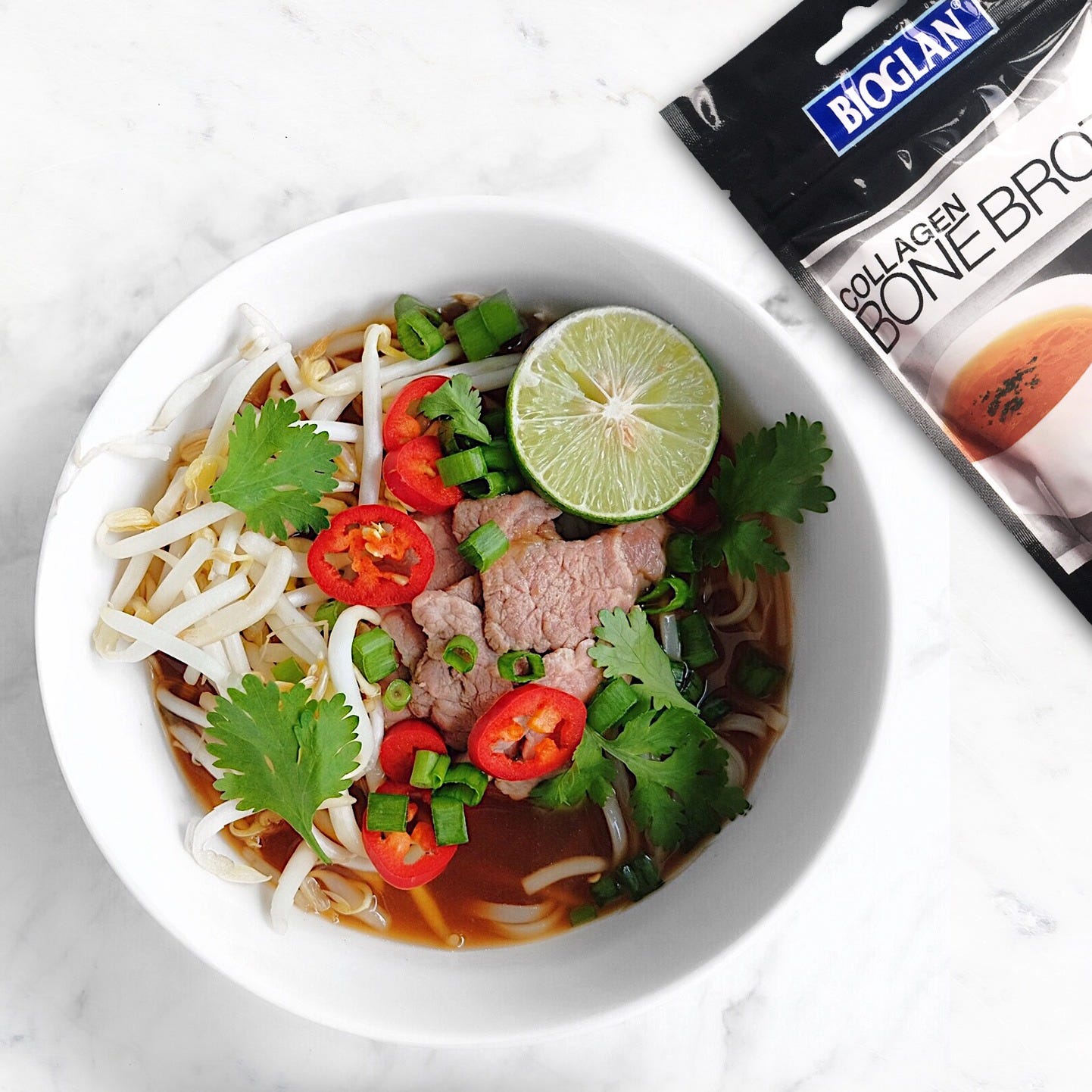 Method
1. Heat oil over medium-high heat in a medium pot. Add halved onions on cut side down, carrot, cinnamon stick, and ginger and cook for 3 minutes, stirring occasionally.
2. Add all the other ingredients for the broth and bring to a boil. Lower the heat down to a simmer and let cook for 20 minutes, uncovered.
3. While broth is cooking, cook rice noodles according to the instructions on the packet. Drain and set aside.
4. After 20 minutes of cooking, taste the broth and adjust seasoning if needed. Once broth is ready, strain broth and return to heat over low heat to keep warm.
5. To serve, divide noodles evenly to two serving bowls and top with thinly sliced raw beef. Ladle the steaming broth into the bowl, pouring over the beef evenly too cook the meat.
6. Top with the rest of the toppings and enjoy!