Nut Crusted Chicken with Asian Greens
Ingredients
2 cups of nuts of your choice
4 x 120-150 grams single chicken breast fillets
1 egg, whisked
Extra virgin olive oil to grease pan
1 cup brown rice
3-4 bunches of Asian greens (e.g. bok choy, chum soy, Chinese broccoli etc), roughly chopped
1 teaspoon oyster sauce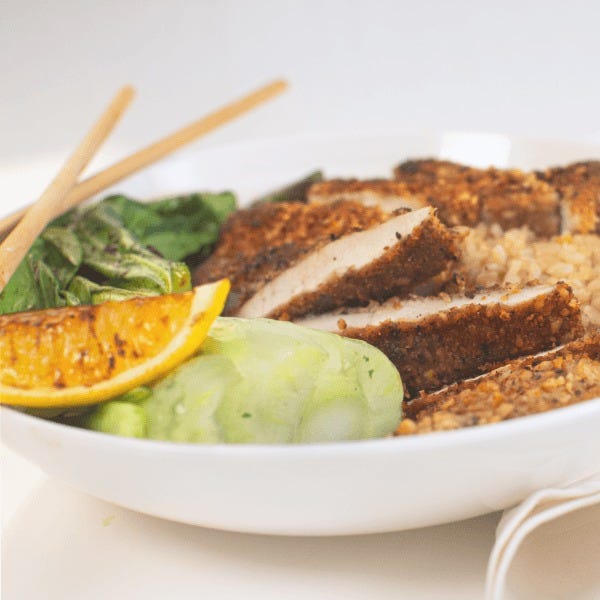 Method
1. Cook brown rice in rice cooker or as per directions on packet.
2. Place nuts of your choice (e.g. walnuts, almonds, macadamia, pistachio, pine nuts etc) in a food processor or blender and blend for 30 – 60 seconds until nuts are broken down. Pour crushed nuts on to a plate.
3. Individually coat chicken breasts in egg wash, then coat with crushed nuts.
4. Heat a frying pan to high, grease with olive oil and cook fish for 3-4 minutes on each side.
5. In a separate pan, cook Asian greens. Drizzle with oyster sauce and stir through.
6. Serve cooked chicken with warm Asian greens on a bed of brown rice.