Goji Berry and Nut Butter Bliss Balls
Ingredients
Makes 18 bliss balls.
1 1/2 cups almond meal
1/4 cup Cacao
1/4 cup shredded coconut
1 tablespoon Bioglan Organic Maca powder
1/4 cup goji berries (or berries of your choice)
1 tablespoon Bioglan Organic Chia seeds (plus extra for decorating)
3 tablespoons almond spread
1/4 cup rice malt syrup
3 tablespoons Bioglan Organic Coconut Oil
1/4 cup almond milk (optional depending on consistency)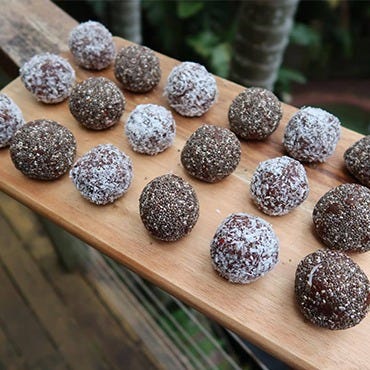 Method
1. Mix together in a large bowl, almond meal, cacao, shredded coconut, Maca, Goji berries & Chia seeds.
2. Then add in almond spread, coconut oil and rice malt syrup, if mixture is too dry then pour in a little of the almond milk until you get the consistency you want.
3. Roll into little balls and decorate with coconut or chia seeds!