Chicken Satay Nourish Bowl
Ingredients
For the Turmeric Cauliflower:
1 teaspoon Bioglan Coconut Oil
2 cups cauliflower florets
2 garlic cloves (minced)
¼ teaspoon turmeric
½ tablespoon lime juice
salt and pepper to taste
For the Peanut Satay Sauce:
1 tablespoon natural peanut butter
1 tablespoon lime juice
2 tablespoon water
½ tablespoon maple syrup
½ teaspoon Bioglan Beef Bone Broth Powder
½ teaspoon Sriracha (or any garlic chilli sauce of choice)
For Assembly:
½ cup cooked brown rice
½ cup shredded roasted chicken
2 handfuls of spinach
2 handfuls of pea sprout
2 handfuls of bean sprout
slices of cucumber using a peeler
few sprigs of coriander
sesame seeds and pumpkin seeds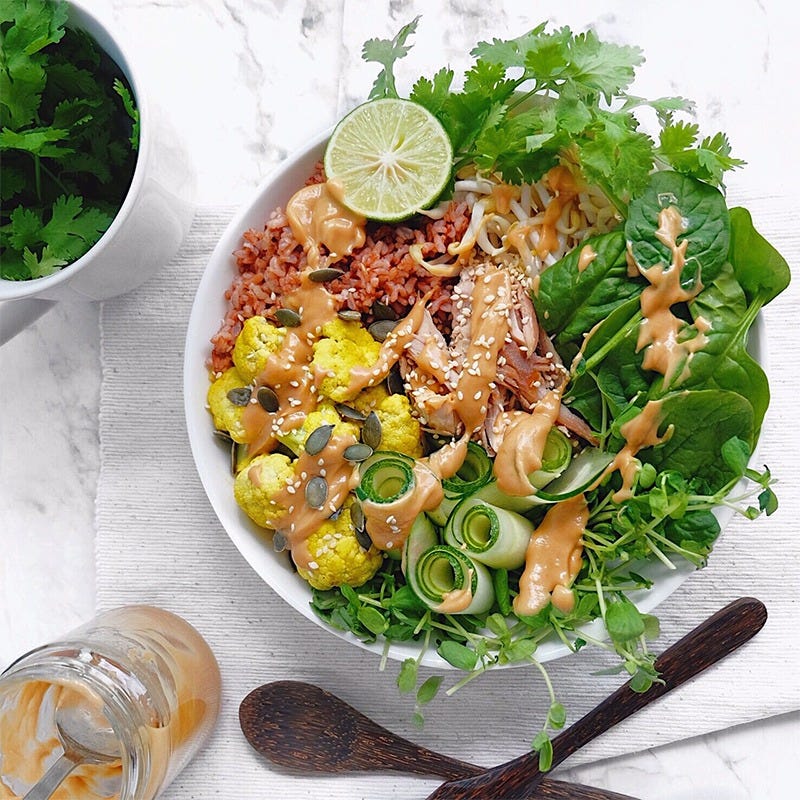 Method
For the turmeric cauliflower:
1. Heat coconut oil in a small pan on medium heat and add in garlic and cook for 3 seconds.
2. Add turmeric, salt and pepper and stir until cauliflower is fully coated with turmeric.
3. Cover pan with lid and let cook for 2 minutes.
4. Add lime juice and stir to coat.
5. Remove from heat and set aside.
For the Peanut Satay Sauce:
1. Add all ingredients in a bowl and whisk until creamy and well combined.
To Assemble:
1. Divide all ingredients into two bowls.
2. Add turmeric cauliflower.
3. Drizzle Peanut Satay Sauce on and sprinkle with pumpkin and sesame seeds.
4. Serve fresh and enjoy!