Chia-Crusted Tofu with Sweet & Spicy Peanut Sauce
Ingredients
Serves 4
For the tofu:
350 grams firm tofu, drained
2 tablespoons tamari sauce (or soy sauce if not gluten-free)
1 tablespoon minced garlic
1 tablespoon lime juice
1 tablespoon coconut sugar
1 tablespoon toasted sesame oil
1/3 cup Bioglan Organics Chia Seeds
For the Sweet and Spicy Peanut Sauce:
2 tablespoons natural smooth or crunchy peanut butter
2 tablespoons coconut sugar
½ tablespoon tamari sauce (or soy sauce if not gluten-free)
1-2 tablespoons Sriracha
1 teaspoon lime juice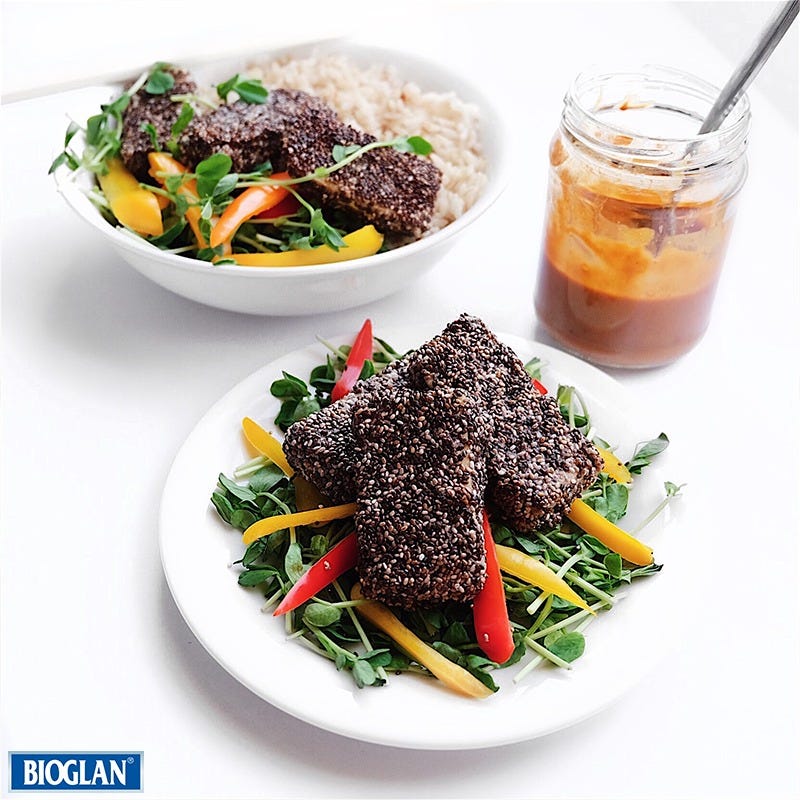 Method
1. Pat tofu dry with paper towel. Cut tofu lengthwise into 8 slices. Place sliced tofu into a ziplock bag.
2. Prepare marinade by whisking together tamari, minced garlic, lime juice, Bioglan coconut sugar and toasted sesame oil in a small bowl until sugar has dissolved. Pour marinade over tofu in the ziplock bag and gently move bag around with hands to evenly coat the tofu.
3. Put ziplock bag in refrigerator and let the tofu marinate for 1 to 4 hours.
4. After marinating, preheat oven to 200 degrees Celsius. Line a baking sheet with parchment paper.
5. Spread Bioglan chia seeds over a large plate. Press 1 side of each piece of tofu into the chia seeds and evenly coat all sides. Transfer to baking sheet.
6. Bake for 35-40 minutes until seeds are fragrant and the cutlets are golden brown, flipping over the tofu cutlets halfway through cooking time.
7. To make Sweet and Spicy Peanut sauce, whisk all ingredients in a small bowl until well combined.
8. Drizzle sauce onto tofu or served on the side with rice and your favourite veggies. Enjoy!